Agility Trials
One of the major events that the club holds each year are our back-to-back Agility Trials in September.
Our next Agility Trials: September 22 and 23, 2018
For additional information on the shows, go to Paw Print Trials, agility trial superintendent: http://www.pawprinttrials.com




---
---
WKC Agility Trials - September 2016

The trial filled both days at 330 runs with wait lists both days. Three factors contributed to the full trial; Judge Lavonda Herring is very popular, this was one of last trials available to accumulate points to qualify for the AKC Agility Invitational and we added the new Premier classes.

We had two Master Agility Champions (MACH) awarded; one on Saturday and one on Sunday. Many trials don't have any so we felt privileged.

We opened the doors at 7am each day. Walk through for the first course started at 7:30 and judging started at 8am and ran until after 5pm both days. We had two perfect cool, dry fall weather days and people could crate their dogs out of their cars or in the facility in the new addition on the second floor. The addition also expanded the kitchen and we had plenty of room to set up the workers raffle, toys for qualifying runs, ribbons and the championship agility bars.

Cara Armour was the trial chair for Sunday and Alice Thayer was the trial chair for Saturday. John Seeley was the assistant trial chair for Sunday and Fran Boyle was the assistant trial chair for Saturday. Julie Rembrandt Seeley (trophies), Lindsey Serafini, Donna Kiuru and Jean Gamble (ribbons) were our trial committee. We also had many volunteers: Terry Sadler, Angel Smith, Dorothy Taylor, Lee Ann Bristow, Anne Testoni, Alison Raposo, Laura Marsden, and Virginia Rowland. We are building the club's agility team expertise and Lindsey worked with our new volunteers to show them the ropes and train them on the agility trial process.

Agility trials run on volunteers. Most exhibitors expect to volunteer and it takes 6 to 8 volunteers to run each class. When the ring set up is changed, moving the equipment requires a larger team of people who are directed by a course builder. The faster the set up is done, the quicker the trial finishes. We provide generous worker raffle prizes and a volunteer can earn a raffle ticket for each class or course set up. We have a reputation for providing excellent worker raffle prizes and this weekend the ring crew sign-up sheets filled up fast.

Our club volunteers fill in for gaps in the teams as well as making sure the trial runs smoothly; worker raffles, trophies and ribbons, making sure the judge has what they need, working with the show secretary liaison, and overseeing the caterer and the facilities.

Thank you to everyone who helped supports the agility trials this weekend!
Alice Thayer & Cara Armour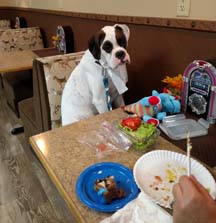 Lunchtime fun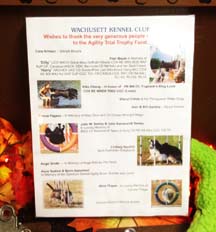 Thanks for the trophy donations!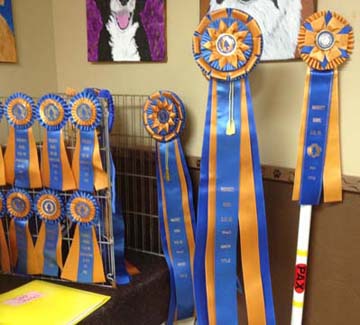 Beautiful Ribbons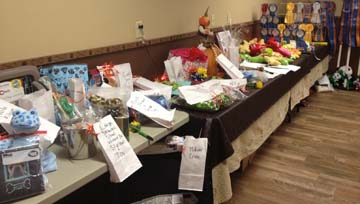 Fabulous Worker Raffle
WKC Agility Trials - September 2014

I'd like to share feedback from our Trial Superintendent emailed to me hours after our trials concluded that sums up how our agility trials went: "I think you guys did a great job. There were many WKC members there which was a nice change for me. So many clubs don't have any members there to help or represent the club. It's the way it used to be. In addition, the atmosphere was really enjoyable for the exhibitors…please extend my thanks to the club for the hard work and representation."
Noreen Bennett, PawPrint Trials

A big "Thank You" goes out to Fran Boyle who worked all three days - setting up the place and building the first course Friday afternoon, helped by Nancy Aldrich and Lindsey Serafini and our Chief Course Builder Patty Gagnon, then taking charge of managing and feeding our volunteer workers all weekend plus being Trial Chair on Saturday. The Workers Raffle items were a big hit as usual - great job Terry Sadler and Lindsey Serafini. Jean Gamble kept up with placement and qualifying ribbons all weekend, and Anne Testoni filled in wherever needed both days and all helped pitch in for Julie's absence keeping our qualifying toy baskets full as she stayed home to take care of our 2 week old puppies. Thanks go to other members and prospective members who came to help and learn more about agility – Angel Smith, Sheila Bennett, Allison Raposo, Laura Marsden, and Cara Armour. You all worked hard to make the exhibitors happy.
John Seeley, Sunday Trial Chair

Many thanks to those who donated to the Agility Trophy fund - I'm sure the dogs appreciated the fun toys those donations purchased! Trophy donors include: Nancy Aldrich, Fran Boyle, Linda Gagnon, Jean & Bill Gamble, Donna Kiuru, Sandra LaJoie, Iva Kimmelman, Donna Pageau, John Seeley, Julie Rembrandt Seeley, Angel Smith, Anne Testoni, and Alice Thayer.
Julie Rembrandt Seeley
Agility Trophy Chair




WKC Agility Trials - September 2012 Trial Chairperson's Report

Wachusett Kennel Club's 13th annual AKC all breed agility trials were held September 21-23, 2012 at American K9 Country in Amherst, NH. Friday featured a day of Excellent classes only, while on Saturday and Sunday, all levels of classes were offered. Lisa Potts of Springfield, IL judged on Friday and Saturday, and Ken Fairchild of Bedford, NH was Sunday's judge. Both judges provided lovely, flowing courses to challenge the skills of the exhibitors. Four teams completed MACH's: three on Friday and one on Sunday.

Our move to an indoor site was well received as evidenced by the fact that we drew the maximum number of entries that could be accommodated each day. As the chair, I am very grateful to all of the club members who attended and worked hard to make these trials a success. Fran Boyle, Donna Kiuru, and John Seeley, each served a day as volunteer coordinator, keeping the classes running smoothly. Nancy Aldrich, assisted as always by Fran, handled exhibitor hospitality. Anne Testoni took care of judge's hospitality. Jean Gamble and Julie Rembrandt Seeley were in charge of ribbons and trophies; each exhibitor received a stuffed toy for a Q. Terry Sadler provided the lovely gifts for the worker's raffle that was well received. Bjorn Zetterlund and Kris Jansen also helped out in the rings. In addition to working, several club members earned legs or completed titles with their dogs.

And of course, because we were indoors, the weather was beautiful all three days!

Joanne Williamson
Agility Chairperson


2009 WKC Agility Trial Photos


Overview of the new trial site.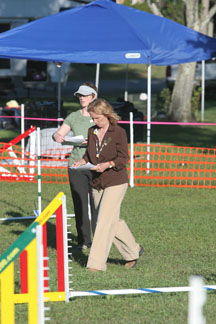 Course building.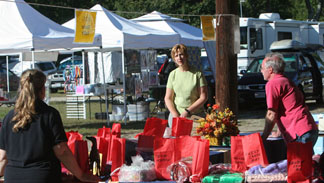 Worker Raffle is ready.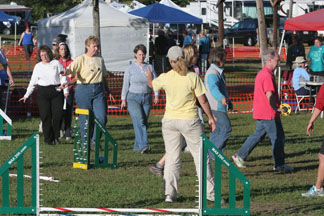 Walking the course

Observing and planning strategy.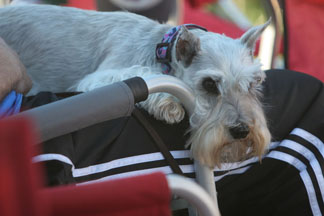 Resting for the next run.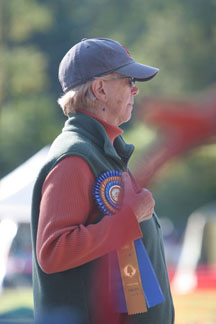 Love that new title ribbon.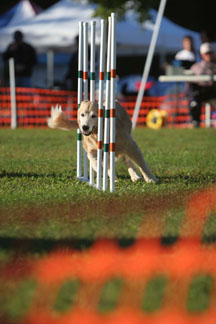 Nice Weave Poles.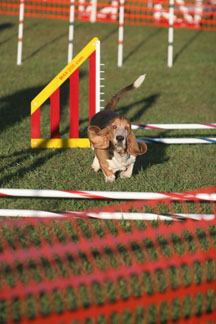 Last run of the day.




Photos by WKC Club Member Bjorn Zetterland
---
Home Membership Meetings Aug-Shows Messages Members Special-Activities Links Legislation