4th Annual WKC "Meet the Breeds" at the 9/25/11 WKC Agility Trial

The 4th Annual Wachusett Kennel Club AKC Responsible Dog Ownership Day (RDO), held at the Lancaster Fairgrounds in Lancaster, MA on Sunday, September 25th was a great success! Despite the overcast skies, the free event welcomed dog lovers for an afternoon of meet and greet along with the chance to watch the agility trials.

This was the perfect opportunity to see a number of different purebred dogs, talk with their owners, and meet their dogs up close! In addition, they had the chance to watch other breeds show their skills on the agility courses. Many of the attendees left with breed information and discovered that there is still more research to do to choose the dog that is right for them.

We thank all club members for their valuable participation in Meet the Breeds for making this AKC RDO Day a great success.

The breeds represented were: Affenpinscher, Beauceron, Basset Hound, Cavalier King Charles Spaniel, Dalmatian, Doberman Pinscher, Great Pyrenees, Icelandic Sheepdog, Leonberger, Petit Basset Griffon Vendéen, Poodle (both miniature and standard), Shetland Sheepdog, Spinone Italiano, Tibetan Terrier

Wendy Hewitt & Keri Sefton
Meet the Breeds Committee



2008 WKC Meet The Breeds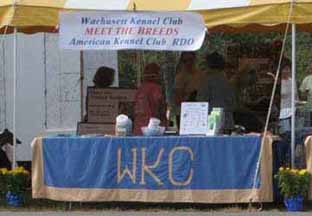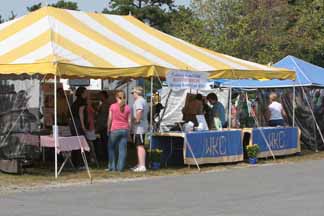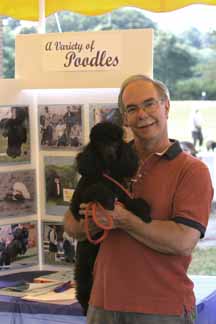 John Seeley & Faye (Mini Poodle) greet visitors.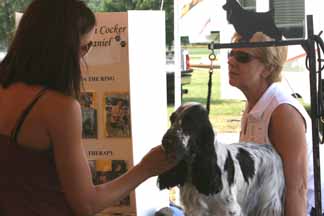 Donna Kiuru educates people about English Cocker Spaniels..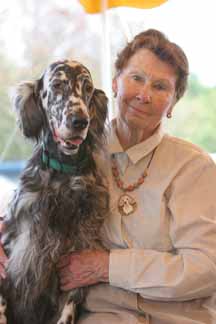 Natalie Wells with one of her English Setters.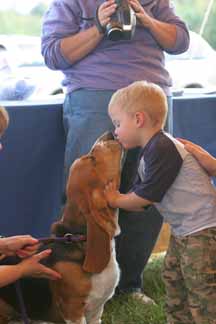 Anne Testoni's Basset Hound "Scooter" makes a new friend.



Photos by WKC Club Member Bjorn Zetterland
---
---
John Rogerson's "Puppy Development & Canine Aggression" Seminar
November 15-18, 2008 - 9:00am-4:00pm
Riverview Hall, Hudson, MA

---
September 29-30, 2004 AKC Lobby Day, Washington, D.C.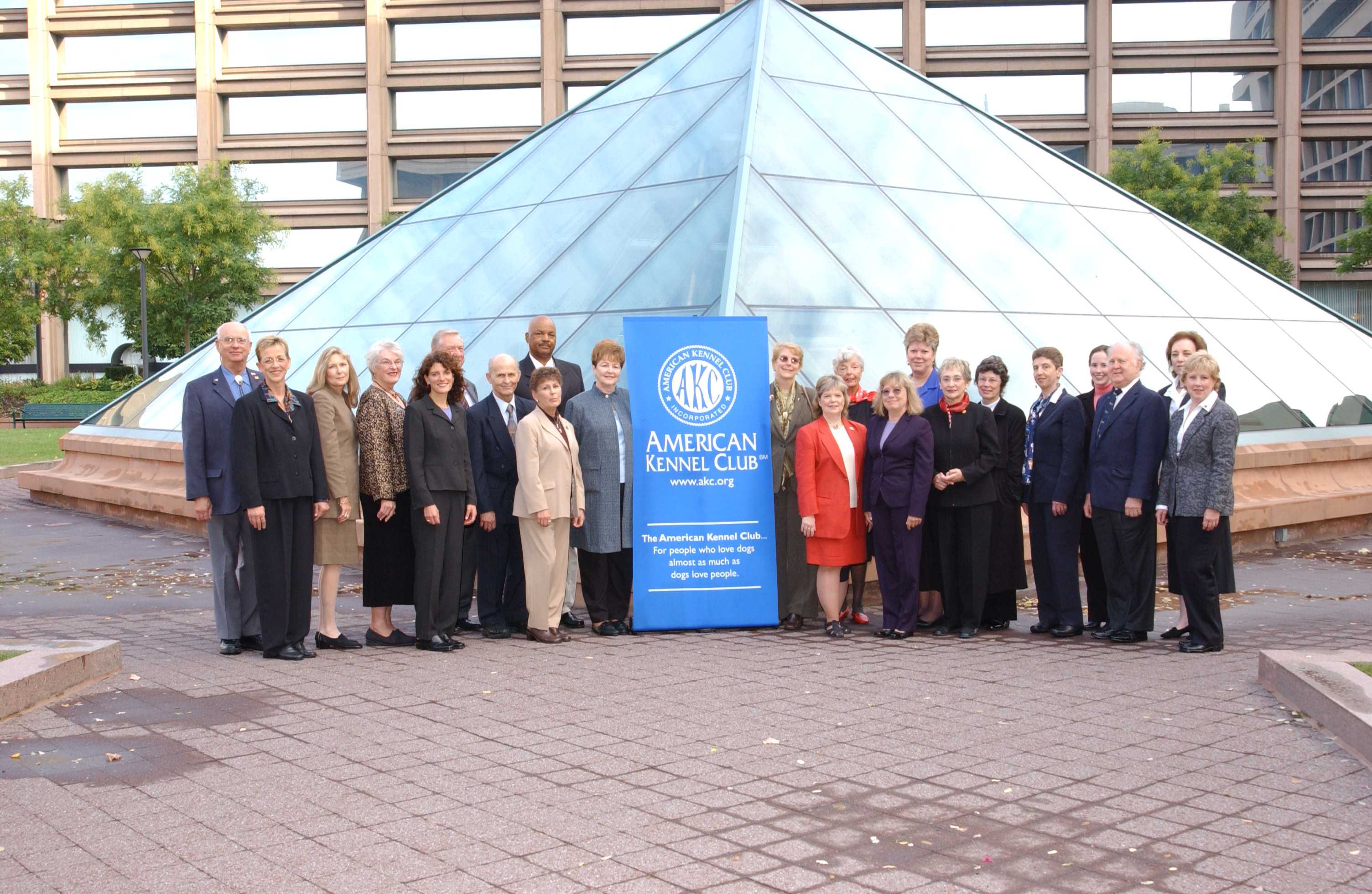 On September 29-30, 2004 Virginia Rowland, Julie Rembrandt Seeley and Charlotte McGowan participated in AKC Lobby Day in Washington, DC. The first day was spent at the host hotel - Loew's L'Enfant - where Stephanie Lane, Director of the AKC Legislation Department, and Noreen Baxter, AKC Vice President of Public Education & Legislation, briefed us and AKC Legislative Liaisons (aka lobbyists) Jim Holt and Bill Laforge gave us insight on how to be effective lobbyists. Jeff Stolzfoos, Project and Policy Assistant for Senator Rick Santorum was a special guest speaker. The Agenda focused on three pieces of legislation that may be introduced in the 109th Congress. First, Senator Rick Santorum (R-PA) is expected to introduce legislation that will give the USDA more powerful tools needed to enforce the Animal Welfare Act. The second issue focuses on the FAA's impending release of regulations required by the Aviation and Investment Reform Act of 2000 that requires air carriers to report 'incidents' involving air transport of pet animals. The record keeping that this may require could be enough to convince the major carriers not to transport animals and emergency legislation may be required to direct the FAA to change the rules. Third, Sen. Elizabeth Dole (R-NC), Sen. Charles Schumer (D-NY), Rep. Howard Coble (R-NC), and Rep. David Price (D-NC) will be sending out a "Dear Colleague" letter asking for co-sponsorship of a congressional resolution that will designate September 17 as "Responsible Dog Ownership Day."
The next day, appointments for all who attended were scheduled with their respective Senators and Representatives by Jim Holt's assistant. Julie, Virginia and Charlotte visited with the Legislative Assistants of Senators Kennedy and Kerry to discuss the three pieces of possible legislation mentioned above. We then separated, Julie to visit with Rep. Martin Meehan's legislative assistant, Charlotte to visit Rep. Barney Frank's assistant, and Virginia to visit Rep. John Olver's assistant. These meetings were generally rewarding. The AKC provided us with special blue leashes to leave as gifts. We left Sen. Kennedy one leash each for his two Portuguese Water Dogs (purchased from a hobby breeder). Senator Kerry and the other Representatives are not dog owners so leashes went to lucky dog-owning staffers.
This was a wonderful experience that hopefully the Massachusetts Federation of Dog Clubs and Responsible Dog Owners can emulate on a local level.
Julie Rembrandt Seeley, WKC MassFed Delegate
Virginia Rowland,, WKC MassFed Alternate
March 27-28, 2004 Pat Trotter Seminar
"A case could be made that in Judging the dog what contributes to the dog doing it's job is a virtue: what interferes with the dog doing it's job is a fault." Patricia Craige Trotter
For two days at the end of the March, the Wachusett Kennel Club hosted a Pat Trotter seminar, a first in New England. Pat Trotter is well known in the fancy for her work studying the form and breeding of the dog and is the author of the book "Born To Win." Saturday 's seminar was filled with valuable information regarding skeletal structure and how it affects their movement.
Through the use of slides and information gathered over 50 years of experience, Pat shared her views on the need for the breeder and fancier to consider the original role of the breed and the changes that have taken place in that breed.
Participants studied reach, both front and rear, and their effect on the athletic efficiency. She explained that fronts were the most misunderstood element of structure with correct fronts the most difficult characteristic to keep and the easiest to loose from the gene pool.
Sunday finished the study of structure and turned to the topic of breeding: line breeding, inbreeding, and outcrossing. Mrs. Trotter stressed the importance of understanding pedigrees and their place in a breeding program.
Other topics included genetics and the selection of breeding stock. During the afternoon, the group was challenged to study the pedigrees of a sire and a dam to figure out why this particular combination produced a particular offspring. With XX and XY dancing in our heads, we diligently reviewed the pedigrees and were pleasantly surprised to find that we were beginning to understand.
The information covered in two days was helpful to anyone in the fancy, breeder and non-breeder. Lively discussions were part of the event with Mrs. Trotter answering questions. At the end of the seminar, the participants were in agreement with Mrs. Trotter's evaluation - "the more we know, the less we know."
I would like to express my gratitude to the following for helping to make this seminar a success. Lola Grab, for helping with budget and her hospitality, Chris Avery for her outstanding book keeping, John Seeley for his support of the project, Julie Rembrandt Seeley for printing flyers and handouts, Tony Cherubini for help with securing the site and his Audio/Video equipment and his Tech, Kelen Geiger for her moral support, and Phyllis Wright for her help with advertising assistance.
Sincerely,
Sherren Mouradian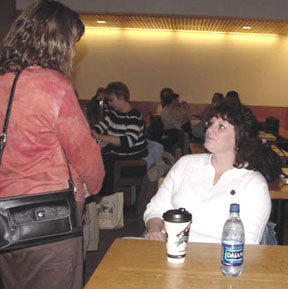 Sherren Mouradian, Program Coordinator for WKC
About 60 people settling in for the educational seminar.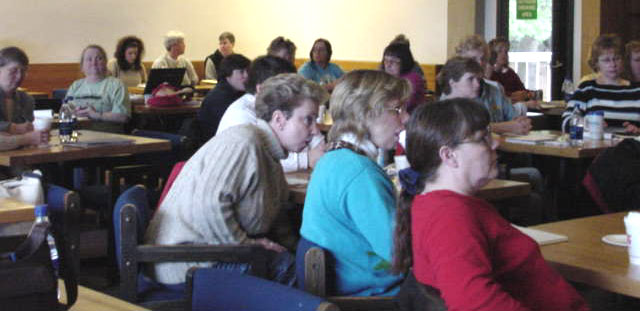 Attendees in deep concentration.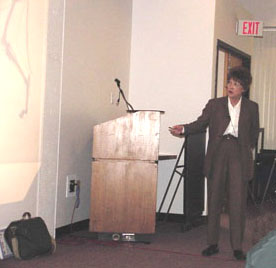 Pat teaching skeletal structure.
Pat answering questions at lunch break.
---
Another such activity was Therapy Dog Training. During January through March 2003, Wachusett Kennel Club offered 4 training sessions to familiarize the handler/dog teams with the requirements to pass the AKC's Canine Good Citizen (CGC) test and Therapy Dog International Certification. The teams were evaluated and certified during fifth session. We had a 100% pass rate and those dogs are now visiting assisted living facilities, hospitals, rehabilitation centers, etc. on a regular basis.
In the following pictures, the dogs are to not pay attention to the person or their dog, as their owners greet each other.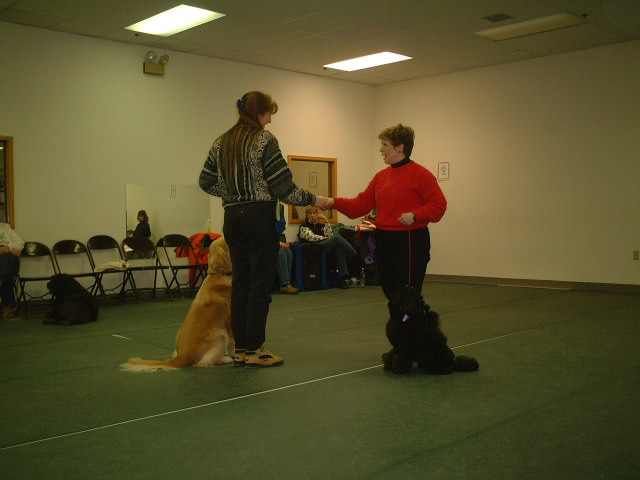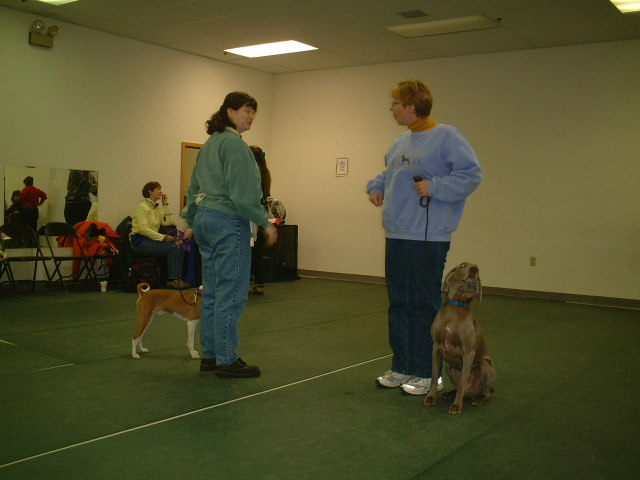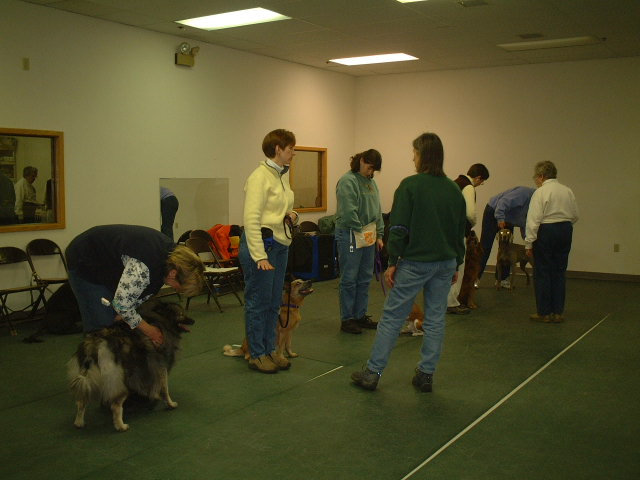 In these pictures, the dogs need to practice getting into a chair so that a bed-ridden person could pat them.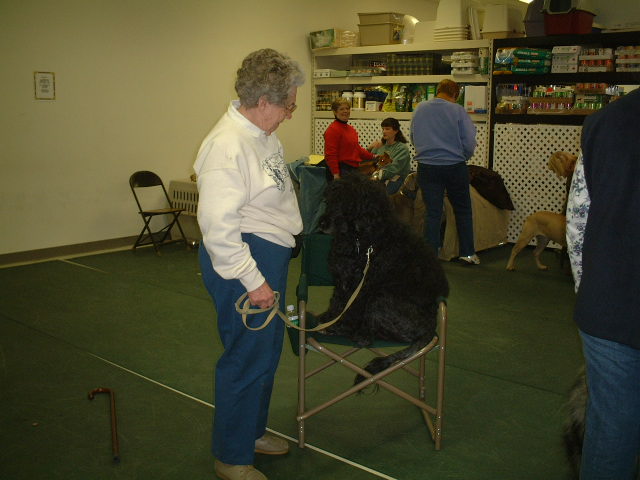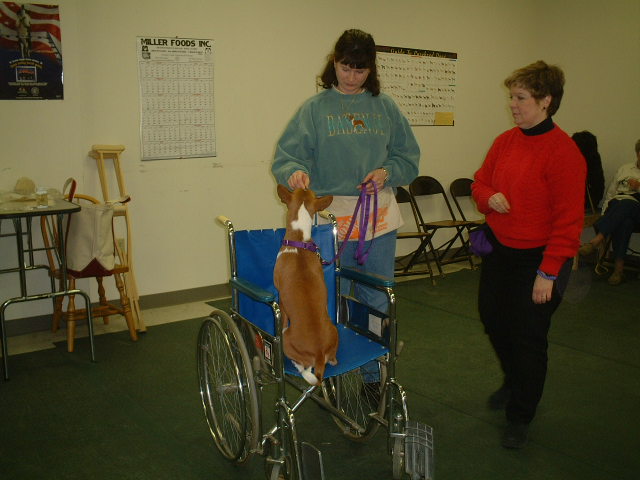 It is important for the dogs to be comfortable around wheelchairs, crutches, canes and walkers.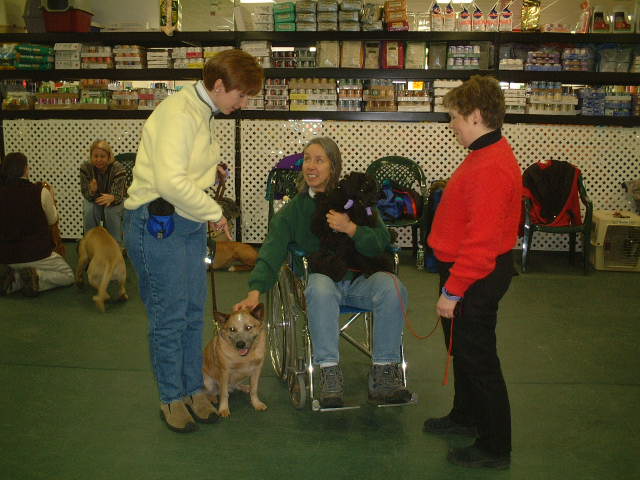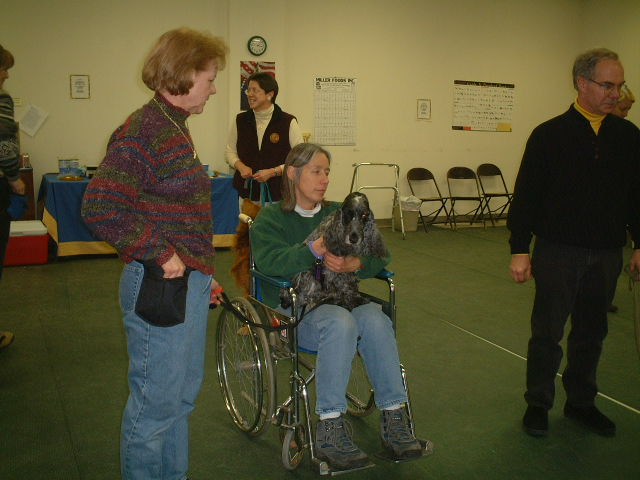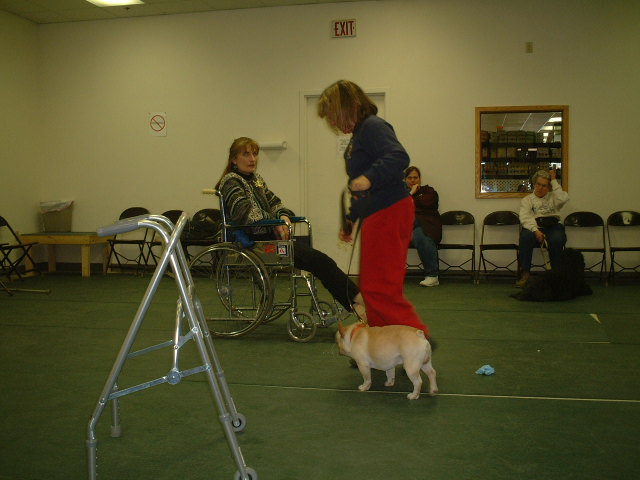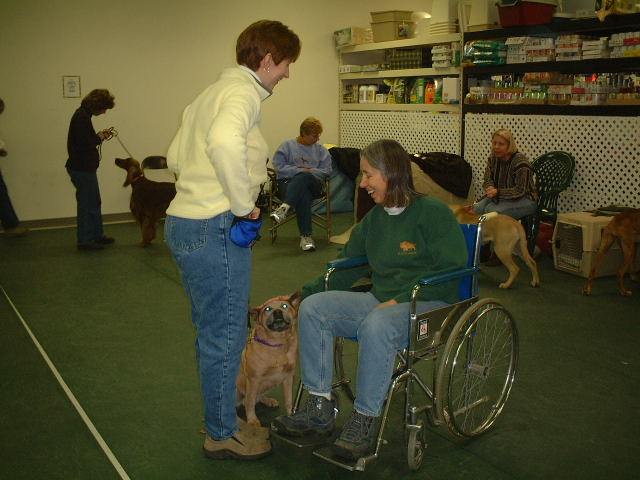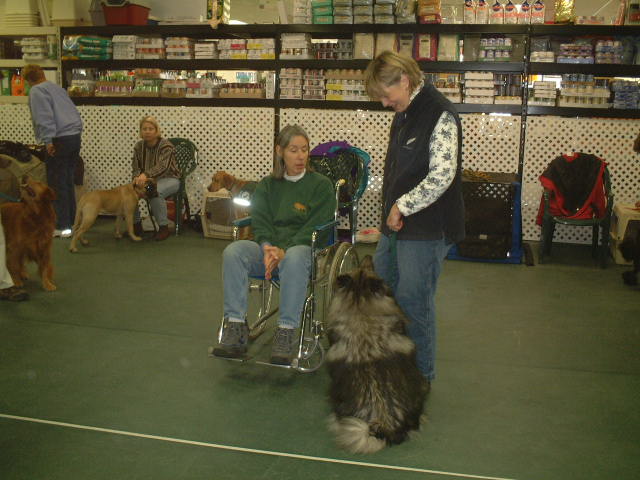 The dogs should be comfortable walking in a crowd.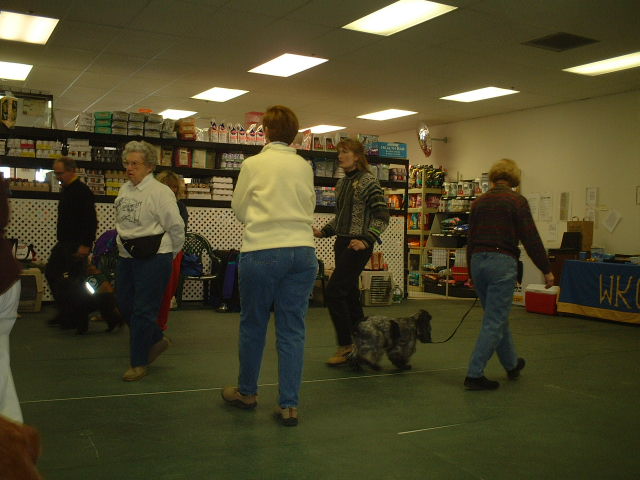 ---
Home Membership Meetings Aug-Shows Sept-Agility Messages Members Links Legislation